Novotny Engineering is a well-established company with a large portfolio of municipal construction and infrastructure projects in the suburbs of Chicago. We recognize that our success is based on our ability to recruit and retain talented individuals and we are always looking for motivated professionals to add to our team. We offer career opportunities with excellent training, professional development, compensation and benefits, including a bonus program, profit-sharing, 401(k) with company match, and paid life, dental and health insurance.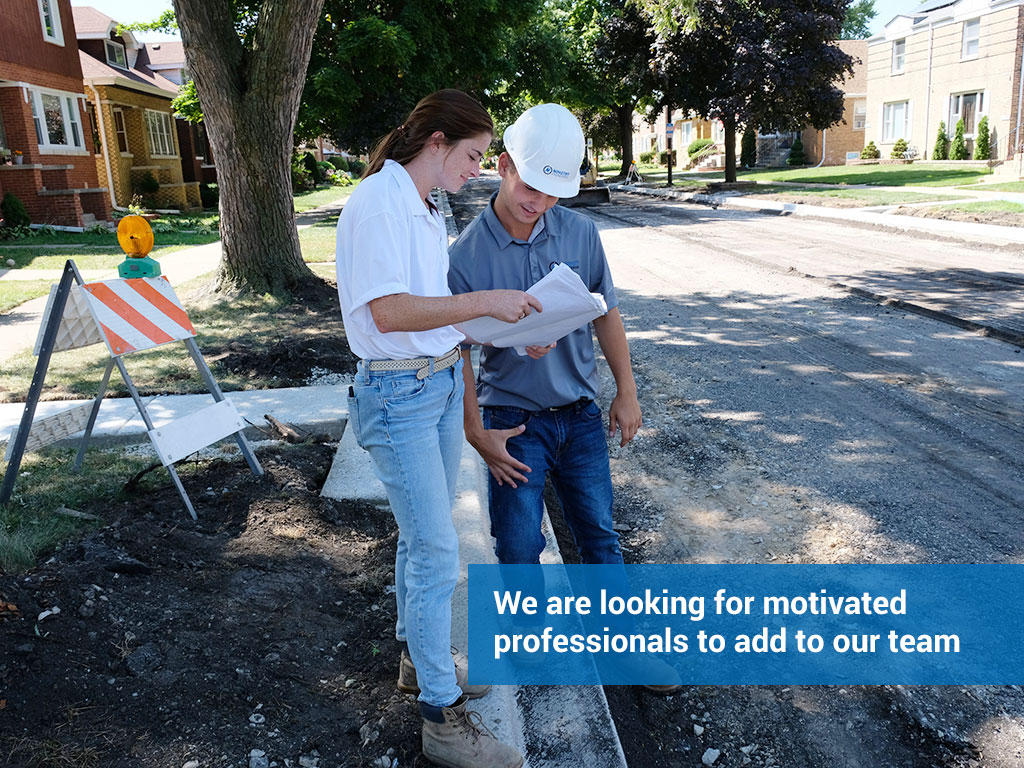 Current positions available:
---
Engineering Administrative/Billing Assistant
Novotny Engineering is seeking a full-time Engineering Administrative/Billing Assistant to join our team in Willowbrook, IL. This individual will be working with and supporting Project Engineers with project-related documentation and billing. Typical responsibilities include preparing project bid documents and contracts, creating and filing project correspondence, drafting and issuing client invoices and working with other administrative staff. To be successful in this role, the individual must be self-motivated, detail-oriented and proactive, possess excellent written and verbal communication skills, have 2+ years of experience in project billing and be skilled in Microsoft Word, Excel and Outlook.
What you'll do:
Assist in preparing project bid documents and contracts.
Assist and prepare written documentation including project correspondence (i.e., letters, memos, email transmittals).
Maintain project files.
Distribute monthly and quarterly billing drafts to project managers.
Assist billing managers and company controller in reviewing and correcting any labor, consultant, or expense entries.
Issue finalized bills to clients.
Communicate with project managers, clients and contractors regarding schedules and documentation requirements, using multiple channels of communication including face to face, email, and phone.
Participate in the social media team.
Provide support in various word processing, project filing, and spreadsheet tasks, as needed.
Support other administrative staff by answering telephone calls or performing clerical duties, such as filing, photocopying, faxing, and mailing.
Perform other related duties as assigned by management.
Our ideal candidate:
Education and experience
High school degree or equivalent. Associate or Bachelor's Degree from an accredited college or university is a plus.
Two or more years of experience in client billing, ideally utilizing project accounting software. Deltek/Ajera is preferred.
Two or more years of experience at a construction, engineering or architecture firm is strongly preferred.
Skills and abilities:
Energetic, self-motivated, detail-oriented, and proactive, with strong interpersonal skills.
Exceptional verbal and written communication skills.
Highly skilled in Microsoft Office programs (Word, Excel and Outlook, in particular) and adept at technology. Experience with social media applications is a plus.
Strong organizational and time management skills with the ability to multi-task and prioritize work.
Novotny Engineering offers a professional yet friendly and cohesive work environment as well as a competitive Compensation Package that includes:
Competitive base salary with bonus potential.
Paid time off.
Company paid health and dental plans.
Employer Match 401K.
Profit Sharing Retirement Plan.
Since its founding in 1948, Novotny Engineering has built a reputation as a professional and dedicated civil engineering firm. The Company serves numerous communities in the Chicago suburbs by offering a full range of municipal engineering and consulting services.
Please visit our website at https://novotnyengineering.com/ for additional information about Novotny Engineering.
Job Type: Full-time
Pay: $45,000.00 - $50,000.00 per year
To apply, please submit a cover letter stating your career objective, along with a resume, to:
Careers at Novotny Engineering
545 Plainfield Road, Suite A
Willowbrook, IL 60527
Or contact us using the form below: